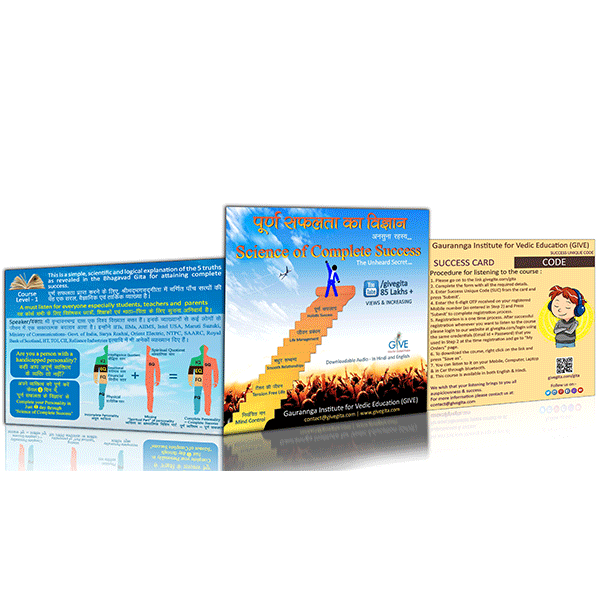 14 hrs Gita Course – Science of Complete Success (Hindi, English, Audio)
Learn Bhagavad Gita principles to attain success in all spheres of life!!! This is the world's first ever Audio/Video course on Srimad Bhagavad Gita covered in just 13 hours!!! In the course, Shri Vrindavanchandra Das ji has presented the thematic study of Bhagavad Gita in a scientific and logical manner which you can easily understand and apply in life. It will equip you to manage every situation in life for holistic success!!!
The course is available in both English and Hindi languages.
Suggested price: ₹101.00
Description
Additional information
Reviews (0)
Description
On completion of the order, you will receive an online links to both English and Hindi lecture series, which you can listen to at your own pace and comfort.
Suggested donation is Rs.101. You can change this and donate less or more amount as you wish.
Explains fundamentals of spirituality from ground.
An excellent thematic presentation of Bhagavad Gita focussing on 5 basic truths-Isvara, the controller; Jiva, the living entities; Prakriti, the material nature; Kala, the time factor; Karma, actions
Explains the science of achieving success in all spheres of life.
Common Myths about spirituality busted.
Helps in realizing goal of life and resolves one's identity crisis.
Additional information
| | |
| --- | --- |
| Language | English, Hindi |
| Media | Online |
---
Only logged in customers who have purchased this product may leave a review.