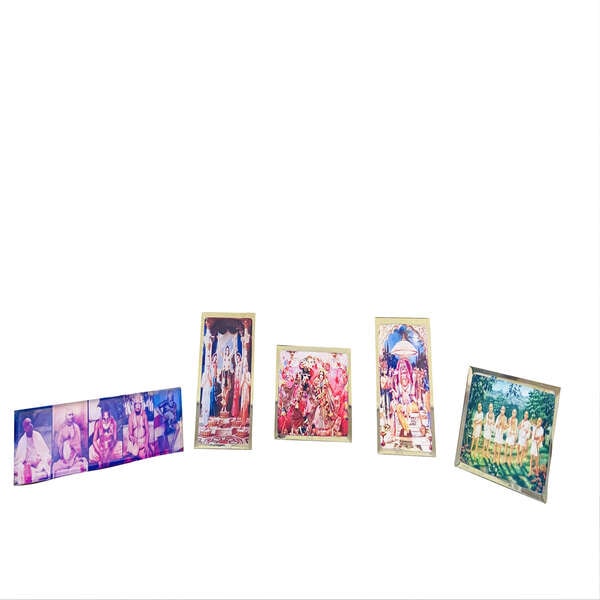 Altar Pictures for Worship
₹270.00
Altar is a sacred place where the Lord resides in the form of deities or pictures. This altar pack consists of a set of 5 pictures of the Lord and His devotees. You can install all of them in your altar and worship them with love and devotion.
Note: We request for your kind patience while this product gets delivered to you. Due to Covid situation, items are dispatched once in a week (Monday) owing to which the delivery may take some time. Thank you for letting us serve you.
Shipping charges extra.
Description
Additional information
Reviews (0)
Description
The Pictures of the Lord are embedded in acrylic stands. The 5 pictures are as follows : 1. Shri Shri RadhaShyamsundar, 2. Shri Shri Panchtattva, 3. Shri Shri Prahlad-Narasimha, 4. Shri Shad-Goswamis, 5. Shri Guru Parampara
If you have a simple flat base alter, you can place the picture sets on the altar as shown in the image. If the alter is built in stair or step-style, then you should place Shri Shri Radhashyamsundar and Shri Shri Prahalad Narsimha on the top stair, then on the second step you can place Shri Panchtattva and below that Guru Parampara and Shad Goswamis should be placed.
The pictures must not be placed directly on the floor of altar. Place some good quality washable soft cloth on the altar floor and then keep the sacred pictures of the Lord and His devotees on that cloth. Keep changing the cloth to maintain cleanliness.
---
Only logged in customers who have purchased this product may leave a review.