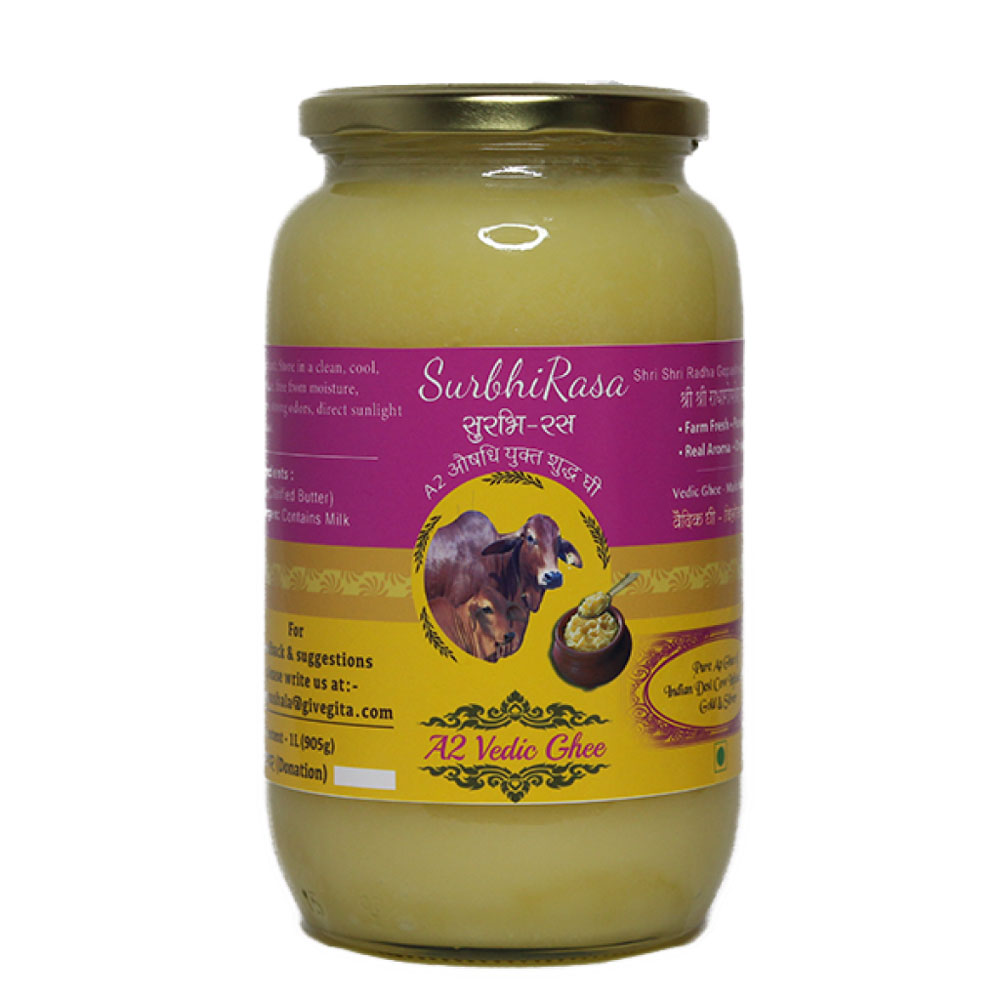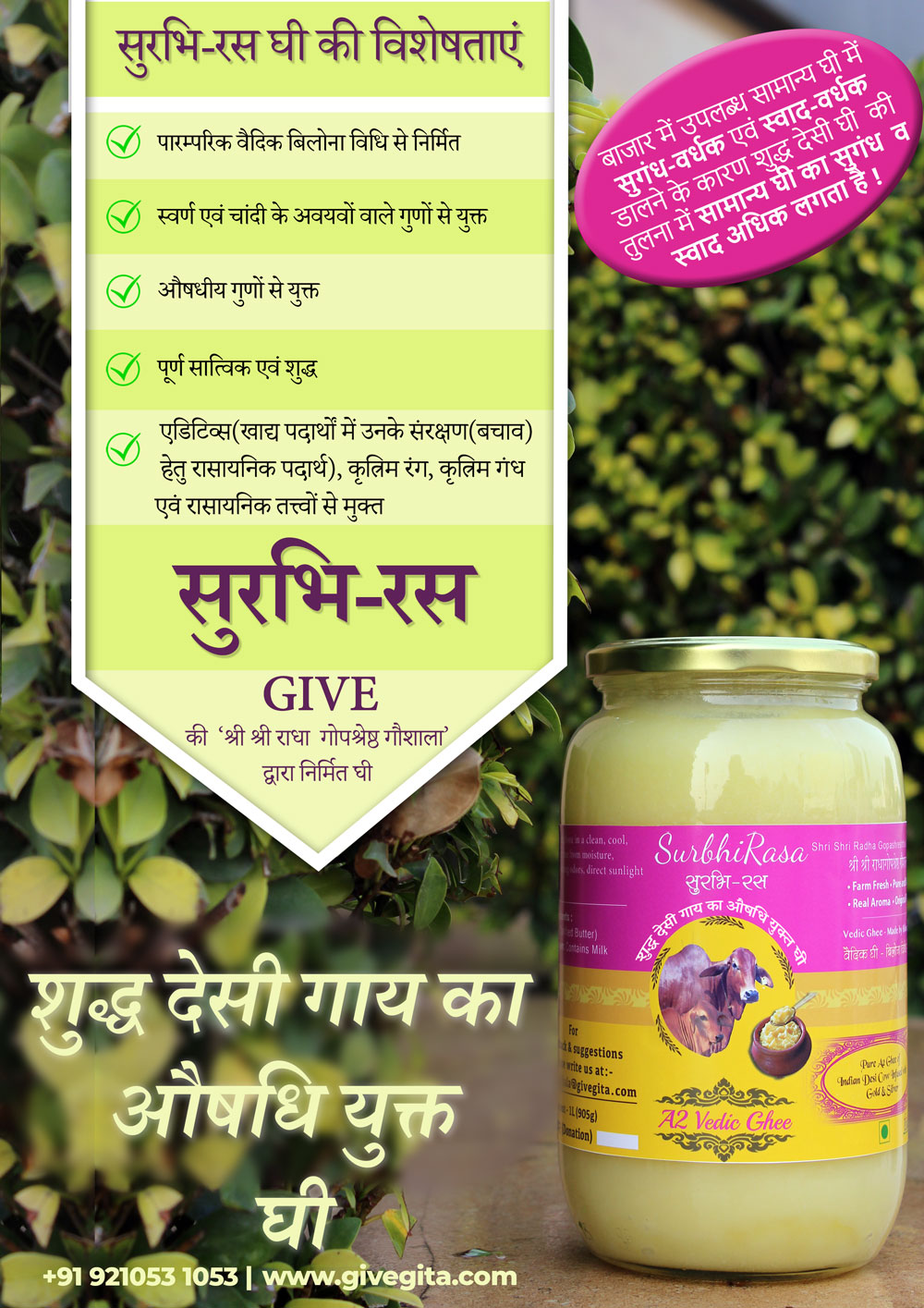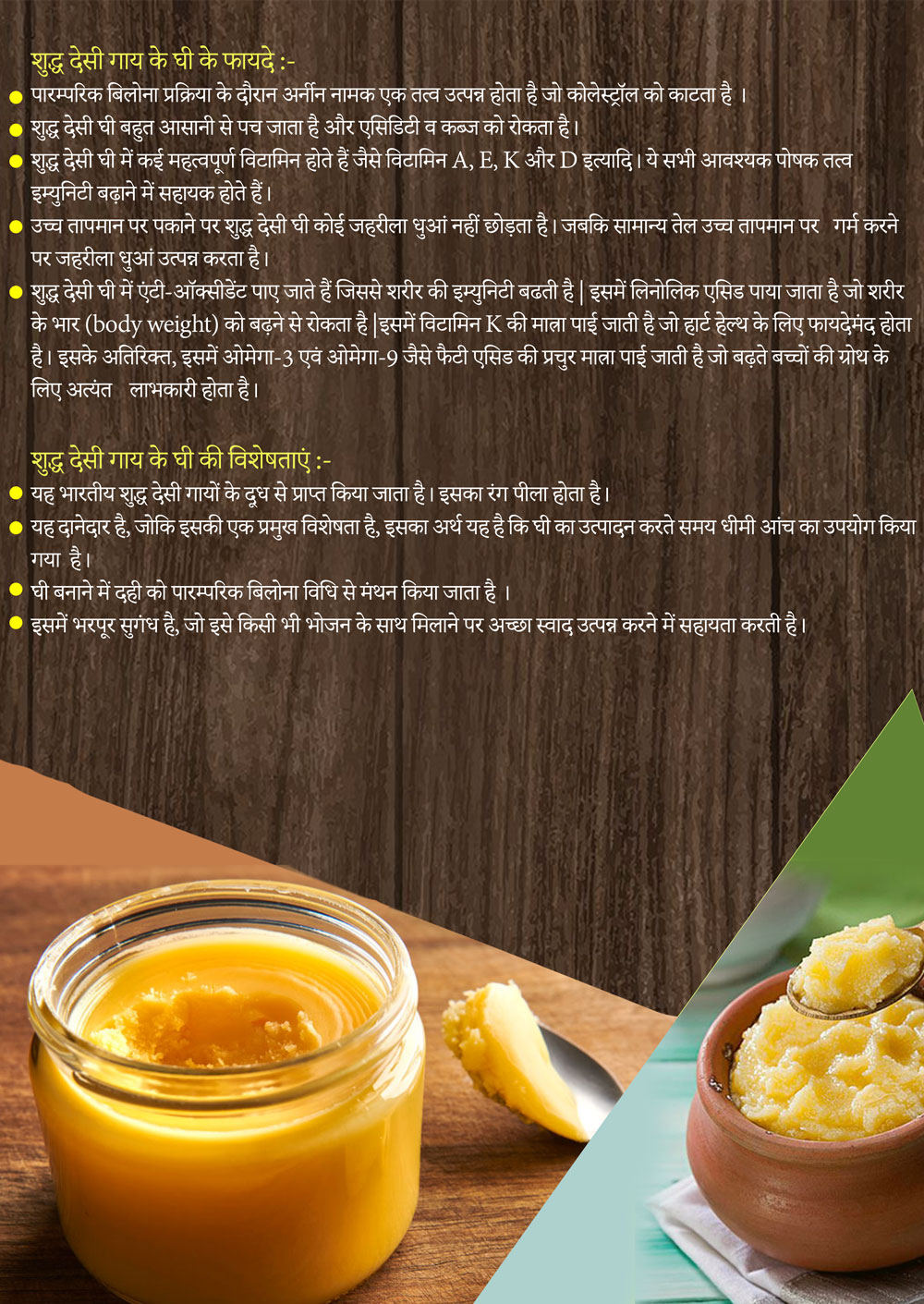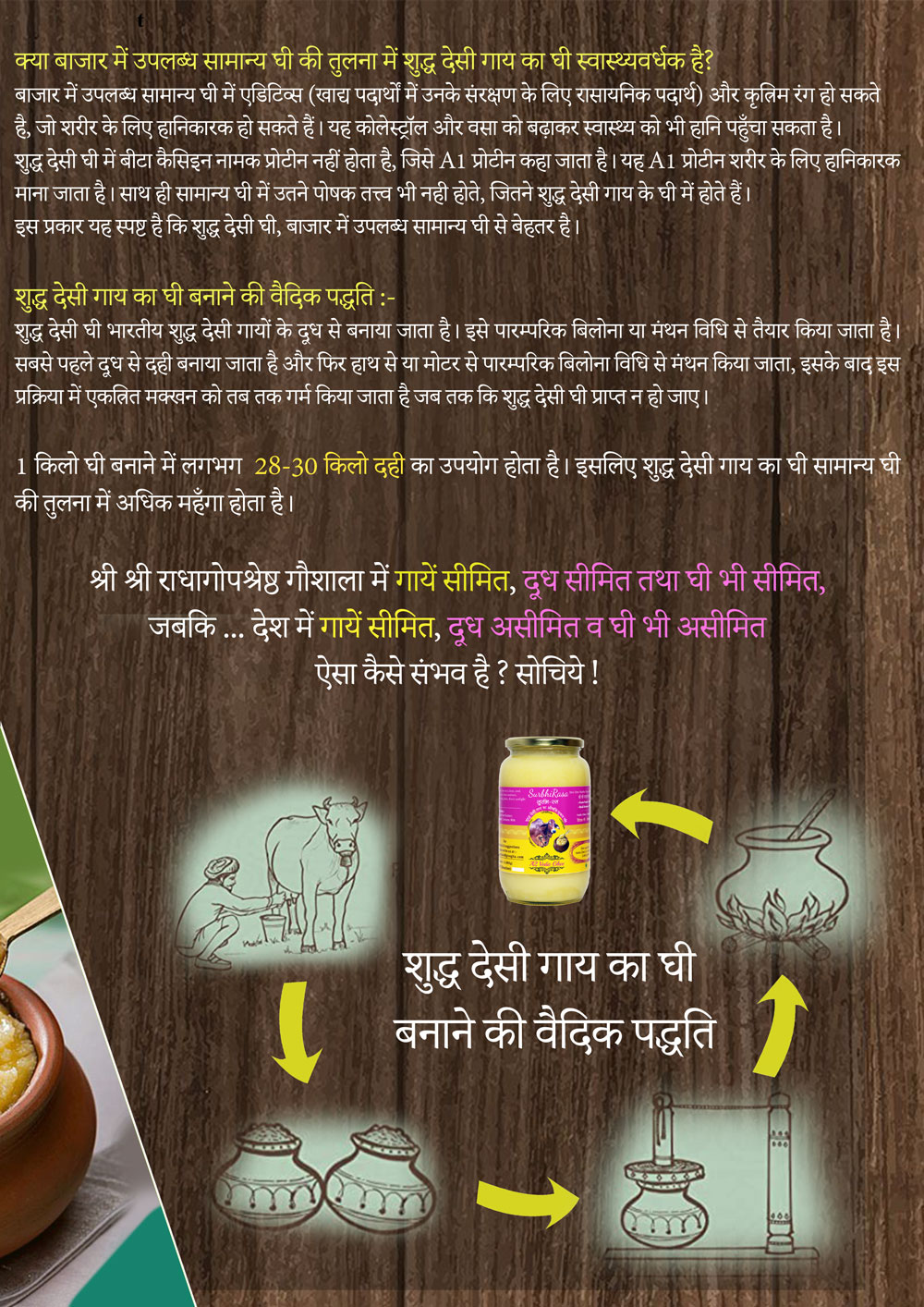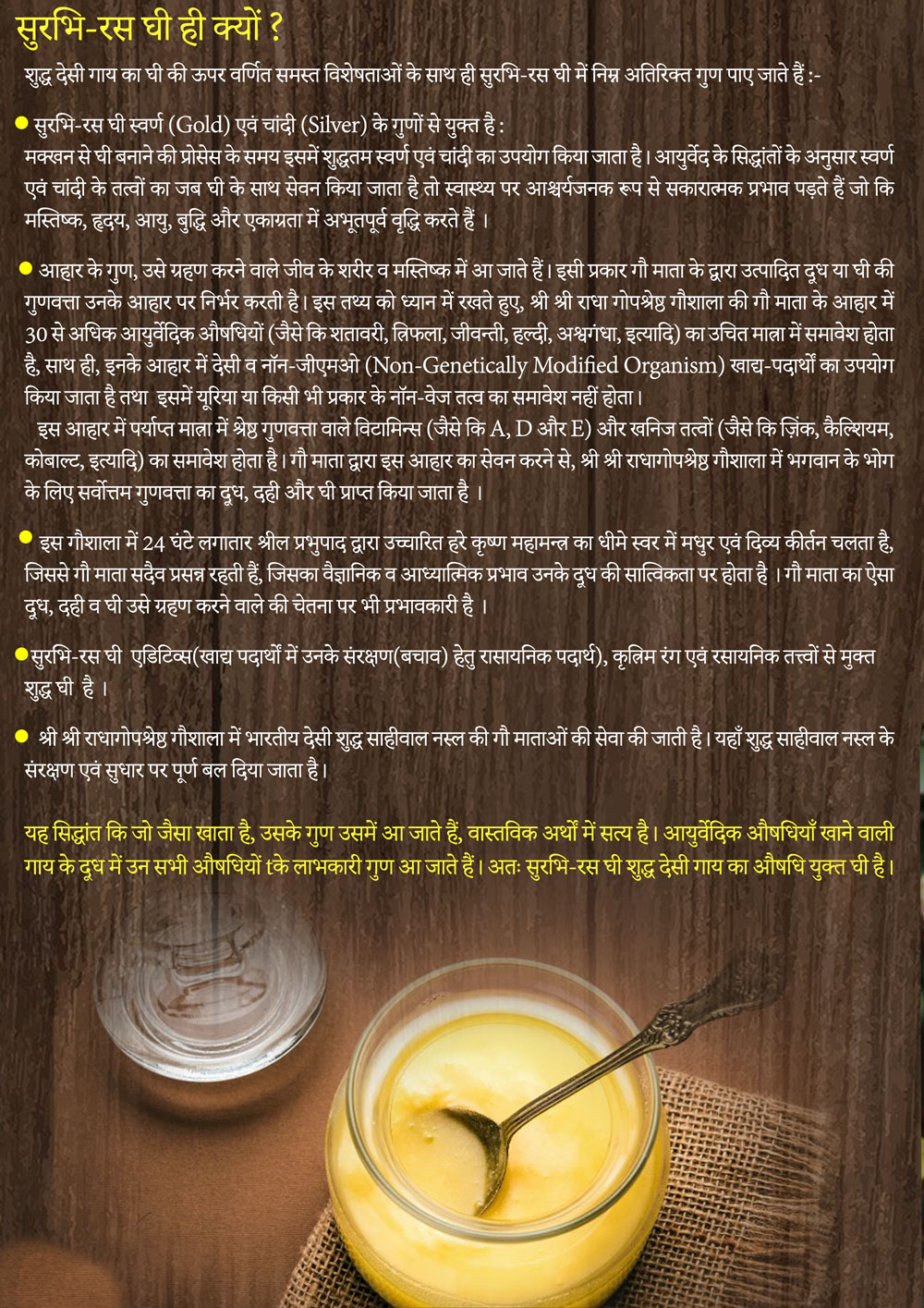 Surbhi Rasa – Pure Desi Ghee of Pure Indian Desi Cows (1 Litre)
₹3,000.00
Surbhi Rasa (A2 Vedic Ghee) is manufactured in the divine Gaushala of Sri Sri Gopeshreshtha at GIVE's Gitalaya in Jaipur. People from all over the world come to visit this wonderful cowshed and the beautiful cattle here.
At present, the cowshed shelters 13 cows, 6 female calves and 6 male calves, which are of pure desi Rathi and pure desi Sahiwal species. We ensure that the finest quality of fodder is given to the cattle especially the cows, so that the best quality of milk, curd and ghee can be made available for the Lord's pleasure.
Due to limited number of cows, we are able to produce Limited quantity of ghee. So grab your Ghee fast.
Note: We request for your kind patience while this product gets delivered to you. The items are dispatched once in a week (Monday) owing to which the delivery may take some time. Thank you for letting us serve you.
Shipping charges extra.
Description
Additional information
Reviews (0)
Description
In Sri Sri Radha Gopeshreshtha Gaushala, a completely Vedic method is incorporated to make pure desi ghee. This involves the process of making ghee by extracting butter from curd in a natural way. Moreover, ingredients like gold and silver are also added in the process of making ghee which is considered to be very good for health according to Ayurveda.
HEALTH BENEFITS OF SILVER:
Boosts immunity and prevent infections.
Destroys antibiotic-resistant bacteria in the body
Treats common cold and flu and also prevents future infections
Heals wounds and skin conditions
Increases brain power
Prevents and kills viruses
Treats sinus, bronchitis and pneumonia
Works better than an antibiotic
HEALTH BENEFITS OF GOLD:
Boosts immunity
Treats Rheumatoid arthritis, upper respiratory infections
Helps to cure cancer
Helps in reducing anxiety and depression symptoms.
Increases concentration and awareness.
Keeps the heart healthy
Treats inflammation or allergies
Ingredients fed to Cows: Corn, Soya Peel, Sugar Beet, Wheat, Gram, Mustard Cake, Barley, Jaggery, Cottonseed, Turmeric, Asparagus Herbs, Carom Seeds, Jeevanti Herb, Green Fodder etc.
---
Only logged in customers who have purchased this product may leave a review.