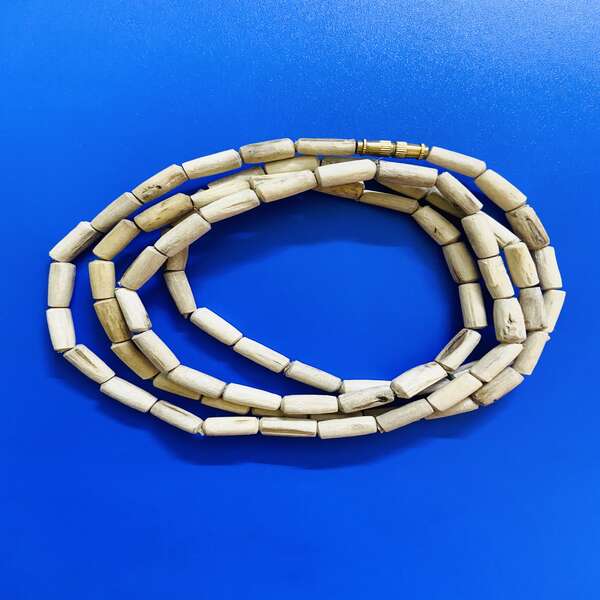 Kanthi Mala Mridanga
₹70.00
One who wears Kanthi Mala worn around the neck is very dear to Lord Krishna.
Kanthi Mala is made up of small tulsi beads. A devotee wears tulsi mala around his/her neck. The initiated devotees wear 3 rounds of Kanthi mala and non-initiated devotees wear 2 rounds. This specific Kanthi mala is a 2 round mala.
Note: We request for your kind patience while this product gets delivered to you. Due to Covid situation, items are dispatched once in a week (Monday) owing to which the delivery may take some time. Thank you for letting us serve you.
Description
Additional information
Reviews (0)
Description
Benefits of wearing Tulasi Kanthi mala:
Kanthi mala makes one dear to Lord Sri Krishna.
It protects the devotee from inauspicious things, for example: bad dreams, accidents, attack from weapons etc.
Upon seeing the Kanthi mala, he servants of Lord Yamaraja flee like leaves scattered by the wind.
How to wear Tulsi Kanthi mala?
We offer the Kanthi Mala to Srila Prabhupada, Sri hri Gaur Nitai and Sri Sri Radhagopshreshta before shipping. Therefore, you can wear it directly. For long life, dip the Kanthi Mala in Ghee or Mustard Oil for 7 days before wearing.
Rules to wear Tulsi Kanthi mala:
1. The devotee should chant atl east 16 rounds of Hare Krishna Mahamantra daily
2. The devotee should follow the 4 regulative principles.
What are the 4 regulative principles?
1. No Intoxication – No alcohol, no tobacco consumption. No smoking or taking any type of intoxicants. One should also not take caffeine products like tea, coffee, chocolate, cold drinks carrying caffeine, alcohol, drugs, charas etc.
2. Food Restrictions – One should not eat foods which are in the mode of passion and ignorance like Meat Products Both red and white, Fish, Eggs, Mushroom, Masoor Dal (lentils), Onion, Garlic, Food cooked three hours before consumption
3. No Illicit Sex – No sex out of marriage. Sex should only be for begetting children.
4. No Mental Speculation- The devotee should strictly abstain from gambling or mental speculation.Gambling includes daily trading in share market, playing cards, or any form of gambling, no dishonest dealings, no mental speculation, for example, giving own interpretations regarding spiritual matters.
---
Only logged in customers who have purchased this product may leave a review.